'Darth Vader' arrested after Jacksonville Beach attempted robbery | News
JACKSONVILLE BEACH, Fla — The Jacksonville Beach Police Department says they've arrested a man who they say tried to rob a Jacksonville Beach convenience store wearing a Darth Vader mask Sunday.
Police say Jacob Jeremy Mercer, 32, entered the 8 til Late store, located a 1375 3rd Street South, with a gun.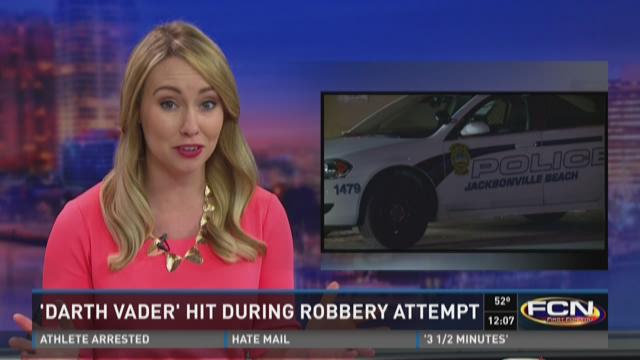 Surveillance photos caught the masked man tape.
"We looked at each other for a couple of seconds it was a little scary," said a man who only wanted to go by the name Ricardo.
Ricardo did not want his face shown on camera. He says the suspect had a bloody face as he was leaving the 8 til Late store.
"He ran to his car sped off driving recklessly through a stop sign and took a right onto first Street, I lost him from there."
The suspect was armed with a pistol and demanded money, investigators said.
A store employee says he threw a wine bottle at the suspect, who wearing a Darth Vader costume. The suspect then ran out of the store.
The suspect was taken into custody shortly after, police said. No one else was injured.
Ricardo says he is just happy to hear that no one was hurt.
"It's a local business, one of my friends works there he's good people and I'm glad to see everyone is safe."