Community members fighting to keep GATE out | News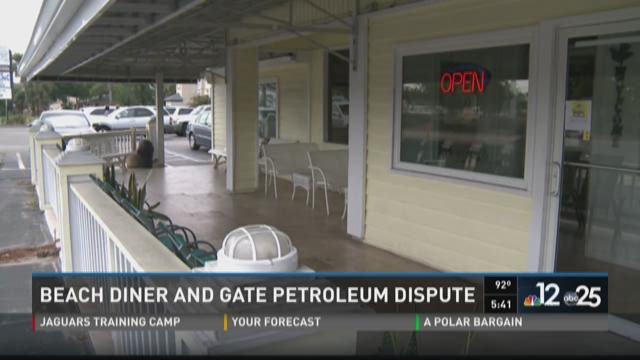 ATLANTIC BEACH, Fla. -- The popular restaurant, Beach Diner, along Atlantic Boulevard could have a new neighbor on the way. But they're not being welcomed with open arms. GATE petroleum purchased property near the diner in 2014 and now residents are watching closely to see what will happen next. They're fighting Gate's plans before they've even formally been presented to the city.
The owners of Beach Diner are worried about not having
enough parking for customers if a GATE gas station is built next to its leased property at 501 Atlantic Boulevard. Glenn Shuck lives across the street and has a lengthy list of concerns including traffic and the crowds of people a gas station could attract.
"The lighting at night and the big canopies that GATE typically puts up would just be a nightmare," said Shuck.
Shuck's fears have prompted him to create a Facebook page called Atlantic Beach Cares, making the community aware of the possibilities.
"We have to be proactive because a lot of times things start coming in and it's too late," said Shuck.
Jeremy Hubsch, Atlantic Beach's planning and zoning director says Gate Petroleum purchased the space about a year ago. The city is having preliminary discussions with the company and has received some conceptual designs. But they have not been given any formal plans as yet.
"We need to let gate petroleum know this is not the spot," said Shuck.
Stan Jordan agrees. He's one of the owners of Beach Diner. They're concerned about not having enough parking for their customers and are now in a legal battle with GATE petroleum over the issue.
"The parking issue is of grave concern to us," said Jordan. "We have a lot of older people that eat with us and it has to be practical. If the shopping center disappears then where do we park?"
First Coast News spoke with Mitchell Rhodes, Chief Operating Officer/Vice President of Gate Petroleum Company. He released this statement:
"For more than 50 years, GATE has worked hard to be a good neighbor in Northeast Florida. Beyond simply providing quality services and products, GATE supports the neighborhoods we serve by providing job opportunities, charitable contributions and more.
Our goal for the Atlantic Beach property, since purchasing it in October 2014, is to bring the property back to life. As of today, Gate has not made any decisions on future development for the land as our plans are to create something that is complementary to the adjacent businesses, including the Beach Diner. Our goal has been, and continues to be, reaching an agreement with our tenant that allows for the revitalization of the area and the continued success of their restaurant."
The issue is on the August 10th city commission agenda as a discussion item. Hundreds of people are expected to show up to voice their opinions. What's yours? Vote in our online poll.